To measure the discharge of a stream or the volume of water moving through a channel per unit time, the velocity-area method is the most commonly used approach which estimates flow in a non-full pipe or open channel without a primary device. The flow is defined as the product of the cross-sectional area and the average velocity of a water stream.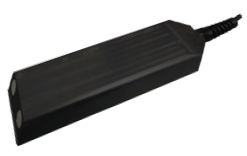 Delta-Phase has several kinds of technologies for Depth Measurement of an open channel such as RF admittance/ capacitance, submersible pressure, ultrasonic and radar level sensors. The most popular model is ultrasonic level sensor due to its non-contact and low-cost features.

When combined with velocity and level signals of a known cross section of a flume, an operator can view flow rate, total, and alarms. The display is also used to work in conjunction with the Configuration Panel to access flow meter settings, such as 4 to 20mA and pulse output scaling, pipe or flume size, zero flow cut-off, flow filtering (damping), display options, and high or low alarm limits.